One of the new things I'm doing for the GDC build is adding two additional maps.  Up until now, everybody who's played SpyParty has played in the Ballroom, a box with 12 or so characters in it and windows on two sides.  The Ballroom is carefully tuned to be fair for both Sniper and Spy at all skill levels (well, at least from total newb to 10 hour elite hardcore, the current limit of my playtest depth).  All the screenshots you've seen of the game are of this map, although for pictures I often increase the number of characters walking around.  Here's a typical view from the Sniper's perspective of the Ballroom with the correct number of characters at the party:
The first new map I'm adding is called Balcony.  I haven't playtested it yet, but I'm pretty sure it's going to be a deathtrap for the Spy.  There are only 7 or 8 characters, and the space is tiny.  The Spy has to either bug the ambassador, or contact the double agent.  Neither is going to be easy, since a reasonable Sniper can trivially watch everybody simultaneously.  I dunno, maybe the Spy can hide behind that plant: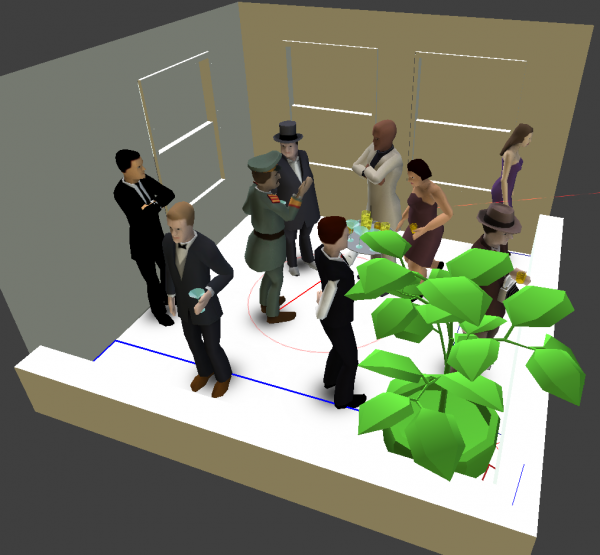 On the flip side, the Veranda level should be a Spy's dream mission.  There are 22 characters walking around, and the Sniper can't see the whole level from any single position.  The statues are spaced very far apart, as are the bookshelves, and there are conversations going on everywhere: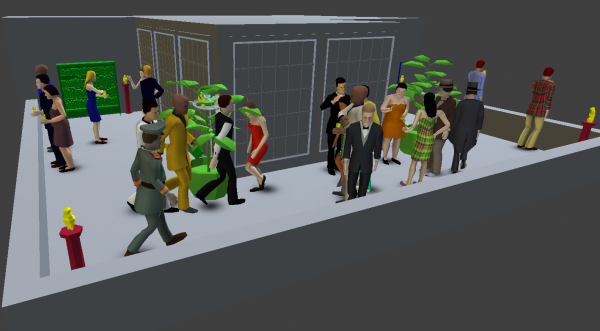 Here's a bird's eye view from a debug camera: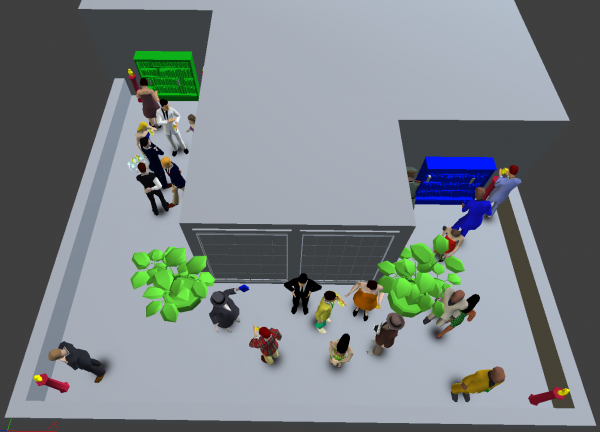 I can't wait to playtest these.  When you're tuning a game, it's sometimes useful to slam the knobs to either extreme, so I'm interested to see how these maps feel to play.  Is the Balcony hopeless, or does it feel like a fun little diversion?  Does the Veranda feel like a hard Sniper challenge, or simply impossible?  What happens if you have two Snipers watching the Veranda simultaneously?
I'll report back when I've got some data!