Update: the second batch of five characters have been revealed.
I am incredibly excited to introduce the new SpyParty character art style!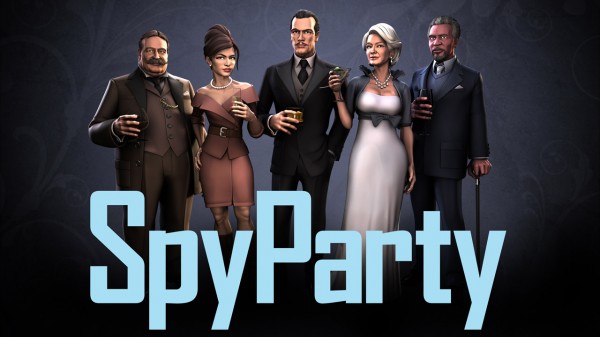 I am also incredibly excited to introduce the new SpyParty character artist, John Cimino!
Full disclosure:  John has actually been working full time on SpyParty since September of 2011, we've just kept it a secret until we could reveal the new art style with a cool selection of characters representing some of the diversity we're trying to achieve.  It's been hard to keep this quiet over the past year, and when somebody would ask me if I was making the game by myself, I'd answer "yes" and rationalize it on a technicality, since we haven't actually put anything John's done into the game itself yet!
So, it's true, I have doubled the team size.  This rate of growth simply cannot be sustained.
John and I worked together on Spore.  I would develop some crazy mostly-broken system for skinning or painting or animating the creatures, and John would do amazing and beautiful things with it, and not hate me afterwards.  After six years of that, I figured our working relationship had been battle tested, and so when I started working on SpyParty full time, I also started working on John full time, to try to get him to come work on the game.
John's the perfect artist for SpyParty, because he's amazing at all the artistic disciplines, from concept through modeling, texturing, and animating. While most of the industry is following movies and specializing roles to the point where an individual artist might only rig, or do textures, or animate, John can do it all.  You need someone like that for indie games, and to have somebody this talented in all of those areas is amazing…I am incredibly lucky to have him, and so are you, since he's going to help make the game the kind of "perfect jewel" that is the reason I'm indie in the first place.
The Style
We've spent months and months defining the style of the characters, and I'm really happy with the results.  We call this style naturalistic and illustrative.  With a game like SpyParty, where the design and gameplay aesthetics are all about deep subtlety, it was important that we hit that level of  subtlety in the visual aesthetic as well.  I want the visual and design aesthetics to work in concert to deepen the game.  We also needed to skirt the Scylla of realism and the uncanny valley on one side, and the Charybdis of slapstick cartoon exaggeration on the other side.
We call the result naturalistic and illustrative because it's based on nature and sound anatomy, but without cleaving too close to realism, using instead the simplifications and stylizations perfected by classic illustrators, people like J.C. Leyendecker, Harry Beckhoff, Robert McGinnis, and Herbert Paus.  We've spent days deciding exactly which wrinkles to include and which to elide on a just-past-middle-aged eyelid.
I want to explicitly thank my good friend Dan Zimmer, who publishes the incredibly beautiful Illustration Magazine, for introducing us to most of these illustrators.
Period
Talking about these classic illustrators brings me to questions of time period, and namely, "When does SpyParty take place?"  The answer is, "yes."
It's important to me that the game's visual design be timeless, not retro, not futuristic, but ambiguous, where it could be happening at any or all time periods.  If you look at the collection of spy images I posted way back in September 2009, it's very easy to visually date some of them, and I want to avoid that. I think 60's retro spy-fi is as cool as the next guy, but it goes in an out of fashion, and it can be subtly alienating even when it's in.  My biggest inspiration for the timelessness we're going for is Pixar's film, The Incredibles.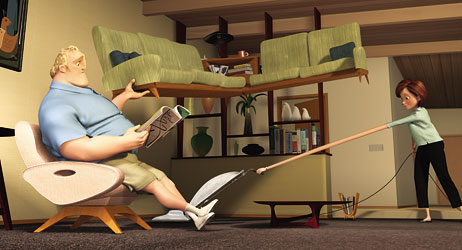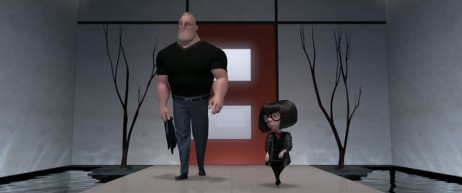 The art direction of that film is, well, incredible, and they did a great job of keeping the actual time period ambiguous…it could be the 50's, it could be today, it could be the future.  I want a similar vibe for SpyParty. If you follow the game, you'll know there is gameplay associated with checking your watch.  There will be characters who check wrist watches, characters who check pocket watches, and characters who check mobile phones, all integrated visually and mechanically in the same game.
Fashion
I'm guessing John and I spend more time on the clock than most game developers do discussing hair styles and shoes.  Since SpyParty is not your usual orcs and space marines fare, we end up going to fashion magazines and celebrity red carpet blogs for a lot of inspiration and reference.  I have a growing pile of tearouts from Vogue, W, In Style, Harper's Bazaar, and Esquire.  Here are a few images I've collected to give you a flavor of the kind of things we look to for visual inspiration:

The Characters
Who are these specific people we're revealing now?  They're going to have to remain mysterious for a while.  Each character in SpyParty will have a dossier that will eventually be important to learn for playing at advanced levels, due to upcoming game mechanics involving individual behaviors and histories.  For now, these folks are visual stakes in the ground as we explore the diversity of different races, genders, ages, abilities, sizes, and orientations that we're going to put in the game.
These characters don't even have names yet.  For a brief while I considered using some of the names from the current beta characters, but I decided that would be disrespectful to the current guys, who have gone above and beyond the call of duty for the game.  So, in deference to their service, I plan to "retire the jerseys" of all the current characters when the new art goes in.  The new characters will have all new names, and I might crowd-source some of them, so put your central casting hats on.
The Game
And with that, we come to the question of when these new characters will go in the game.  The short answer is, "not for a while."  These are characters that will eventually go into the game, but they're currently at the initial stages of the very long production pipeline that comes with doing a high-end 3D game these days.  These are high-poly-count models, and these images we're revealing today are rendered with a non-realtime renderer.  They still have to be decimated, and rigged, and textured and normal mapped, and animated, and the game engine needs to be redone to support higher quality characters like these.  They are a long way off, sometime next year at least.
Finally, we come to the most important question of all, "What if the new art screws up the game balance?"  I will not let that happen, or at least won't let that happen for long.  The deep and balanced game design is the absolute top priority, so if for some crazy reason I simply can't get the game deep and balanced with different art, I will throw it all away and ship the ugly art that's in the game now.
But, I don't think that extreme will be necessary.  I think we can make SpyParty a deep and subtle and beautiful game. Even once the game engine is ready to support the new characters, I will introduce them slowly in their own maps alongside the existing art, so we can make sure they don't mess things up. I'm sure there will be some stumbles along the way, since perception is one of the key mechanics in the game and the new art will clearly impact perception, but we'll figure it out and keep the game on the path to a competition worthy player-skill game.
What about the environments and objects?  Those visual styles are yet to be determined, but they're going to take a lot of time and thought, the same as the characters.  The foreground-background separation is a key part of SpyParty, and the art style of the environments and objects needs to reinforce that.
Gallery
So, here are the new SpyParty characters.  We love them and hope you do too!
Update: Their placeholder names until we name them for real—in order of appearance in the group shot—are Mr. C, Ms. B, Mr. A, Ms. E, and Mr. D.
Wallpapers
Here are high-resolution high-quality (read: large file sizes) images rendered out at various aspect ratios, so they should be suitable for even the largest desktop wallpapers, if your computer would like to wear them for a while.
And here are the high-resolution high-quality versions of the portraits.  They're 1000×1500 resolution: