Technically, even though this post is getting published in February, I started writing it in January, 2010, so I think saying "Happy New Year!" still counts for something…
2010 is going to be the first full year of development on SpyParty, and I'm pretty excited about the progress so far.  The official Goal for the Year™ is to figure out if the core gameplay is as cool and compelling as I hope it will be based on the thinking and brainstorming I've done over the years.  Will I be able to achieve my design goals of making a truly deep and replayable game about subtle human behavior?  I have no idea, but this year I plan to find out.  The problem with making a game that is truly different is you can't say with any confidence whether it will work at all.  Scary!  I think the old Albert Einstein quote is in order:
"If we knew what it was we were doing, it would not be called research, would it?"
There are a lot of philosophical themes I'm hoping SpyParty will touch on (using interactivity, not narrative or cut scenes, of course!) that I'll go into in more detail the future, but from a pure design process standpoint, I'm following two basic tenets:
Make the deep and hardcore game first, and make it accessible later in development, a.k.a. Depth First, Accessibility Later. I'm ripping this off directly from a 2006 speech by Rob Pardo, the Vice President of Game Design at Blizzard, about how they design games for the long term.  Here's a great quote from the Gamasutra writeup:  "First we try to come up with what are really cool things, things that will get people to play for two to three years. Then we actually start talking about accessibility, how to make the content approachable and easy to learn. But it starts with depth first." As I said in a recent interview, I wish we had taken this approach on Spore, and developed a super consequential core game to go with the awesomely deep editors, and then worried about making it accessible. There are probably a lot of different ways to make good games, so I don't know if this one is the best, but it feels right for SpyParty because I want to have a core game that's highly focused on player skill (mind you, not the same player skills as most games, but skills like perception, deduction, distraction, performance, and subterfuge).
Playtest early and often. The game is years away from shipping, but I'm already playtesting the super-duper-incredibly-ugly-and-crufty-early-prototype multiple times a week with friends and colleagues.  These started out as truly painful sessions, where I basically couldn't get people to play with me without bribing them with free lunch or chocolate chip cookies, but I recently had a playtest with a bunch of friends from EA, Maxis, and Zynga, and they played the game for 4 hours straight, until 1am, which blew me away.  They were having a good time, giving tons of great feedback, really competing with each other in the game, and developing strategies and counter-strategies.  The playtesters ranged from people who never played "core games" to hardcore gamer min-maxers, and the results were promising.  The newbie players would always get owned by the experienced players (where "experienced" means "played a few more games that evening"), which is right where the game wants to be at this point in development.   It's relatively simple to make the game easier and accessible for new players by tuning and matchmaking, but making a game that doesn't have that skill component into a player skill game doesn't work.  I was surprised how well the playtest went, and was slightly giddy, to be honest.  I'll post more thoughts about this later.
I will leave you with two images that are pretty inspirational for SpyParty (no, not the highly questionable image of Peter Sellers in blackface playing an Indian gentleman, that's cringe-worthy at best, yikes!):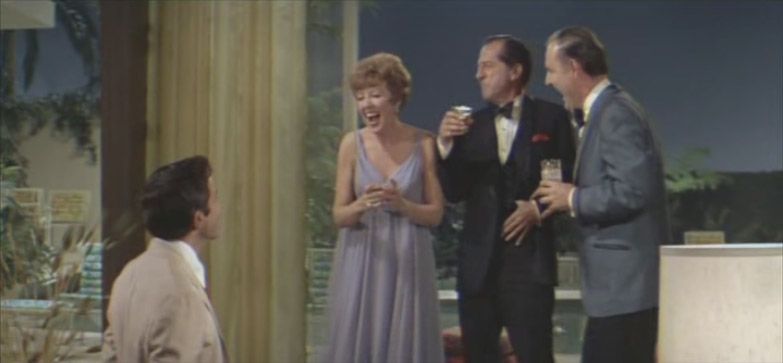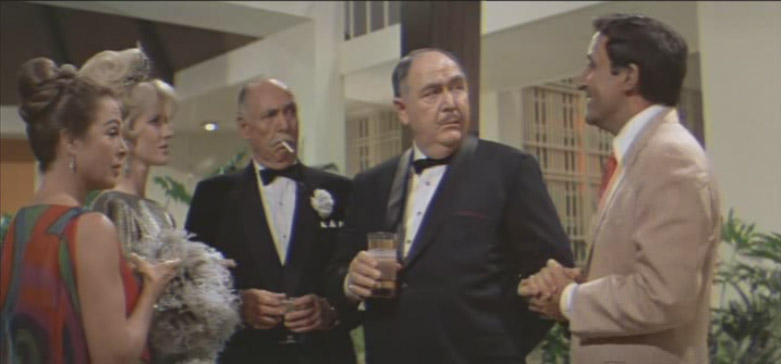 I'll write more about these images soon.