Let's be clear: I love making games, and I hope to do it for a few more decades, fate willing.
That said—like in other creative endeavors—the pursuit of awesomeness in game development is often mind-numbingly tedious and mundane. Case in point: my last week and a half.
It all started when I decided the next cool thing to work on would be to get the partygoers to be able to pick up stuff, like books, sculptures, drinks, cigarettes, and any other MacGuffins I come up with for the Spy missions. Let's ignore the fact that it's 2010 and game developers still need to think about and do work to get characters to pick up objects in game worlds. Sigh.
Okay, this seems like a reasonable short term programming goal that will allow me to further explore the design space. For example, it will allow the characters to carry books away from the bookshelves, making it harder for the Sniper to keep track of what's going on, etc.
Easy! What could possibly go wrong?
I broke this high level task down into bite-sized components:
Add an event track to the animation system so the animations can tell the AI when the object should be attached.
Make an animation for picking up the object and have it fire an attachment event.
Add non-character dynamic items as a concept to the code.
Add a simple attachment system to the character AI and rendering code.
Write a quick full body IK system so the character doesn't have to align with the item exactly1.
Hook it all up.
I start on Step 1, and get it done relatively quickly. There was a bit of an issue of figuring out how to represent the event track in the modeling tool, but once I figured that out (with help from the awesome Ryan Ellis), it went pretty smoothly.
Okay, so next up, Step 2, the rough animation to pick up an item. Of course, when doing an animation referencing an item in the world, you want that item in the view while you're doing the animation. I load up the pedestal with the statue on it into the file with the character rig, and get this:
Hmm, that's odd…
Oh, right, none of my asset types are in the same coordinate system or at the same scale. This is what I get for rushing to get a demo together for GDC2009, and then forgetting about it and never cleaning it up.
In case you're wondering where the statue that's supposed to sit on top of that (tiny) pedestal is, here you go:
Oh boy. SpyParty currently has about 10 distinct weighted meshes with rigged skeletons, and about 27 animations. 3D graphics tools do not like it when you adjust the scale and orientation of an already complete animated character. This at least partially explains why most indie games are 2D…
After sinking into denial for a few days, it became clear that I needed to just dive in and rescale everything into the same space now2, rather than putting it off any longer. I will spare you the gory and frankly boring details, involving writing scripts in multiple languages, unhooking and rehooking the animation curves from the bones, a lot of manual typing and clicking, liberal use of the undo key, reading half an infinity of web pages, and a lot of black tea.
I did, however, take some screenshots along the way. First, there's the shot I used for the April Fool's post:
Here's one attempt at rescaling the characters:
I eventually got them the right size, only to find some of them are totally hosed:
But, finally, after more than a week of work:
However, now things are finally in place for some more interesting character interactions with the world: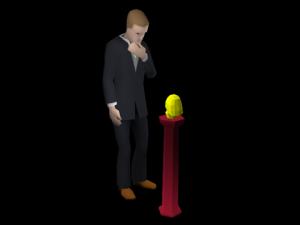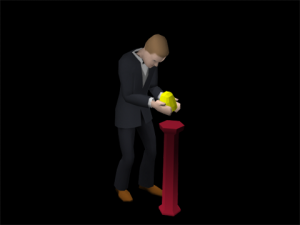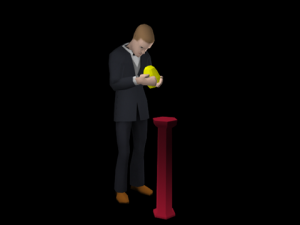 I am now optimistic that I can start on Step 3 soon. :)
Random: I've been listening to Pandora today with Radiohead as the seed, and it's just looping Radiohead -> Thom Yorke -> Death Cab for Cutie -> Beatles -> Modest Mouse -> Smashing Pumpkins -> Nirvanna -> Beck -> Coldplay -> The Strokes -> The White Stripes -> Muse -> Pink Floyd -> Led Zeppelin and then back again. Not a very diverse list. I usually leave Pandora running with no feedback just to see where it goes3, but this is a pretty unsurprising and short list.
This is a step that might give some people pause, but I've written so many IK solvers over the years that I figure I can whip this out in a day or so. Famous last words. [↩]
In meters with z-up, like God intended. [↩]
I have the mental image of their matching algorithm starting to panic after a few hours of no user feedback. One time I started with Sigur Ros and it played The Scorpions after about 8 hours! [↩]