This is one of a set of articles all published on Tuesday, August 17th, 2010, the inaugural Size Doesn't Matter Day organized by Jamie Cheng from Klei, where game developers talk about how the length of a game is or isn't important relative to its other merits.  Links to all the ones I know about are at the bottom and I'll update it as I find out more.

I'm not sure how well this claim would stand up in the face of actual data, but after James Cameron subjected humanity to the 3+ hours of Titanic and became King of the World1, it seemed like the film people just gave up on parsimony and stopped leaving much of anything on the cutting room floor.  All the footage went into the movie.  No hard editorial decisions were made.  2½ and 3 hour films became fairly common, and nobody was making 90 minute films anymore.
Now, plenty of film buffs, critics, and people who have to urinate have debated the "length issue", and I'm not actually interested in contributing to that here.  I am interested in pointing out that the debate rarely seems to center around the concept of "value" in terms of "money/time".  It's always about what's the right length for the material2, or did the director suffer from logorrhea3, or was the studio cynically trying to please all of the people all of the time, etc.  You don't often hear people talking about movie prices tied to movie length.  Not that people don't complain about movie ticket prices, mind you, it's just that they don't seem to couple them to the movie's length very often.  People say, "movies are or aren't worth $X"; they don't usually say, "$X would be a good price for a N minute movie, but any less is a ripoff!".
Other mature art forms also avoid this money/time value comparison.  People joke about how gigantic Infinite Jest is, but they don't talk about it in terms of cents/page.  Should iTunes charge by the minute for songs instead of a flat $.99?  If so, Frank Zappa's back-catalog would be quite pricey…
However, you see this "value debate" about game prices and game play length all the time.  In fact, it's the usual way of talking about game value on the internet, as far as I can tell.
Why is this? What's different about films, books,  and music, as compared to games?
If you're familiar with my lectures and rants, you will see my answer coming a mile away:  I think it's because these other forms deliver (or, at least, are clearly capable of delivering) deep and compelling emotional experiences, and it just seems gauche to break them down into money/time or money/size.  You can talk about the value of the painting, and everybody does, but you don't break it down any farther than that—you can't talk about the value of that flower versus the farmhouse, or the upper-left corner versus the lower-right—because you lose something ineffable in the analysis.
This topic came up most recently amongst a bunch of indie game developers after LIMBO came out on Xbox Live Arcade, and there was some discussion, and some more discussion, and we decided to do Size Doesn't Matter Day.  But, it's got a long history, especially with indie games.
The typical analogy made by defenders of game pricing and value is to the cost of eating out at a restaurant.  When the price being discussed is $15, the food being discussed is usually fast.
And, while it's true you will pay more for a pizza these days than you will for a "AAA Indie Game"—or you will if your pizza is any good—and, yes, a $15 game will give you more direct hours of content than a $15 movie will, I claim if you're even engaging at this level, you've already lost the argument.
So, while I think the focus on game length relative to game price is silly, I think the only way out is to make better, more meaningful games.  That is the most compelling argument we have against people who complain about $2/hr (Dragon Age or whatever @ $60/30 hours) versus $3.75/hr (LIMBO @ $15/4 hours).  Even when the economy is down, and you lost your job (hey, like me!), or you're a kid trying to scrape together your allowance, or whatever, if we make games that strike deep emotional chords with people, that, and only that, will wash away the superficial discussions of value as defined by money/time.
Assuming we actually figure out how to do that, we'll look back on this debate as an historical artifact, like discussing whether a nickel was too much to put into a Kinetoscope to watch the 5 seconds of Fred Ott's Sneeze.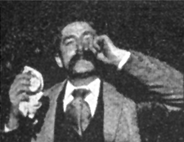 Links
Okay, here are all the Size Doesn't Matter Day posts I know about.  Some of these are set to go live in the morning, so don't report a bug until the sun rises.  Also, post a comment if you find more, and I'll put them up here.
Also, #gamelength on twitter.
Epilogue
Ironically, because SpyParty has a strong "online multiplayer competitive player-skill component", this whole discussion is somewhat academic for me, for this game, at least.  My goal is to attain what I call "Counter-Strike levels of replayability", which traditionally trends asymptotically towards $0/hr of "entertainment value"4.  However, my goal is for people playing SpyParty to want to do so because its engaging them in a deep and meaningful way, not because it's a cheap way to spend time!