SpyParty needs help!
Are you local to the Bay Area or going to be here next week, responsible, dependable, and hard-working, a game developer or interested in game development, and available to man (or woman) the SpyParty kiosk at the IGF Pavilion at the Game Developers Conference in San Francisco, March 2nd through March 4th?  Yes, that's Wednesday, Thursday, and Friday, next week…
If so, I want to talk to you.
Before you say, "please, yes, let me slave away on the expo floor!", you need to understand how much work it is to do booth duty.  You are on your feet for hours, teaching people how to play SpyParty, wrangling crowds1, explaining how to do the non-intuitive bookshelf mission over and over again, answering sometimes inane questions, and taking detailed notes about any problems you see so we can reproduce them later, and the entire time you have to have a good attitude and be genuinely excited to help people out.   With the right attitude, you will have a blast and meet some great people in the game industry, but you need to represent the game well to the people who want to play.
You have a tough act to follow in Tom and Ian: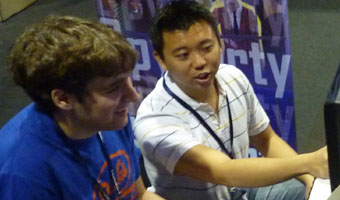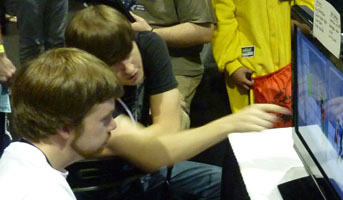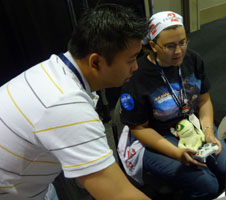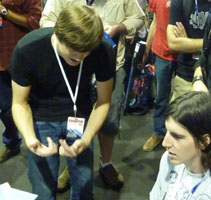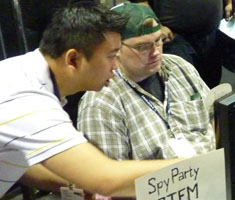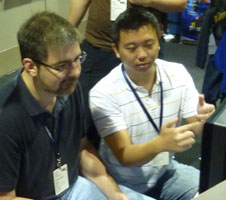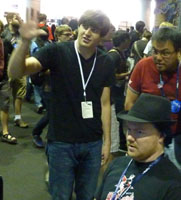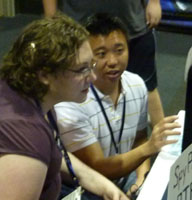 Specifically, I'm looking for two or three people to help out.  You'll have to get to play and learn SpyParty, and then work the booth during the three expo floor days when the IGF Pavilion is open.
I need to be able to completely trust you, because my GDC schedule is always insane even when I don't have my game on the expo floor, so I expect it to be off the charts wacko this year, so you're going to be on your own a fair bit.  You will be representing my game when I'm not there, and my game is really important to me, both personally and professionally, so I need to trust that you'll do a good job.
You should apply to do this because you want to help out, be a part of the insanity of making an indie game, and meet cool game industry people, but there is another benefit:  as part of the IGF finalists package, I have some passes to the GDC, so you and your co-booth-helpers will be able to trade off and go see some talks.  The schedule is here. At the very least, even if the talk turns out to be bad, you'll be able to rest your feet.
If you are interested, send me email with the title "SpyParty IGF booth duty", and explain why you're the right person to help out.  You might want to include any references of people we know in common, since a network of trust always helps.  Anybody is welcome to apply, whether a full time professional game developer, an indie, QA folks, bloggers, fans, game developer wannabes, or whatever.  The key thing is you're responsible, dependable, hard-working, and trustworthy.
Thanks for considering it, I really appreciate it, and sorry I'm so late in getting this together!
hopefully [↩]