Hey, you! Boot up your PlayStation®3 (PS3™), log onto the PlayStation®Network, and buy the just-released Slam Bolt Scrappers!  Not only because it's a crazy and fun mashup of Tetris and Super Smash Bros. made by a bunch of super cool indie developers, but also because the Fire Hose Games guys are totally amazing for letting SpyParty crash in their booth at PAX East 2011!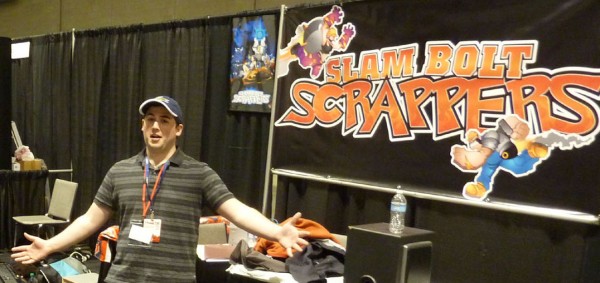 We had an exhausting but great time at PAX East 2011.  Like the experience at PAX West 2010, we started out without much of a line, but then it grew by word-of-mouth until there was a really long wait to play.  The good news is this gave people time to read the updated manual; the bad news is lines are a drag, so I'm going to try to come up with a plan to reduce the problem at PAX West 2011.
First up, a video of a couple right after the Spy wins.  I really need to figure out how to preserve this level of communication and decompression after a match when the two people aren't across a table from each other:
Next, a tense newbie game.  The Spy gets shot in this one:
And finally, a giant pile of pictures.
A few things to look for here:
Enjoy!