As expected, SpyParty lost to Minecraft for the IGF Seumas McNally Grand Prize, but we had a great time at the show and have lived to tell the tale (or at least blog about it)!
First off—and most importantly—I owe a huge debt of gratitude to the incredibly awesome SpyParty booth volunteers:  Chelsea Hash, Heather M. Decker, Roger Hanna, Tim Fowers, and Dan Alongi!  You can see them helping out in some of the pictures below, and they totally saved me from death-by-overcommitment!
Next up, come play the game at PAX East!
I'm mostly going to throw some pictures up in a gallery, but I figured this one would have some comedic value by itself:
We were super lucky to have a line most of the time, so people could read the new manual1, and everybody seemed to have a good time with the game.  There were a few different video interviews that will be going up over the next couple months, and I'll link to those when they're available.
Did you spot the ringer, Alex Baard, from the PAX West tournament?  He didn't tell his opponent he'd played before.  Not nice!
And, finally, here is the excellent Daniel Benmergui, who stayed with me after GDC for a couple days, gazing into the future, thinking artistic thoughts.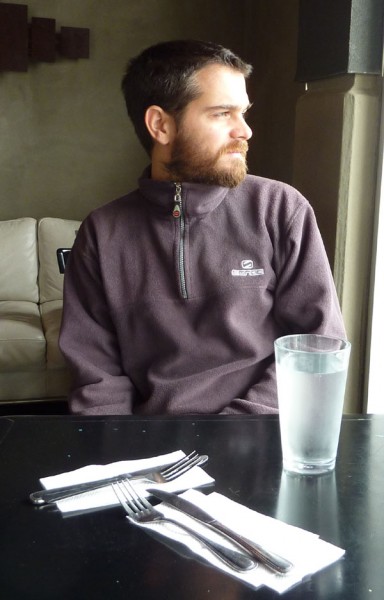 which I just realized I haven't posted yet, I'll do that tomorrow [↩]