You may have heard by now since I am super late writing this blog post, and it is in fact true: SpyParty is coming to Steam Early Access on April 12th, 2018. That's next week at the time I'm calmly typing this with absolutely no stress or anxiety and with my todo list completely finished. HA!
And that's not all! There are actually three big pieces of news in this post:
The aforementioned Steam Early Access release date of April 12th, 2018!
The six (6!?!) amazing new venues that are available now in the latest build!
You have until the Steam launch to get it at the current $15 price on spyparty.com, because we're raising it then!
♥♥♥ YES YOU WILL GET IT ON STEAM IF YOU BUY IT ON SPYPARTY.COM,
I WILL POST MORE ABOUT HOW THIS WILL WORK SOON! ♥♥♥
We'll talk about each of those in order…
Steam Early Access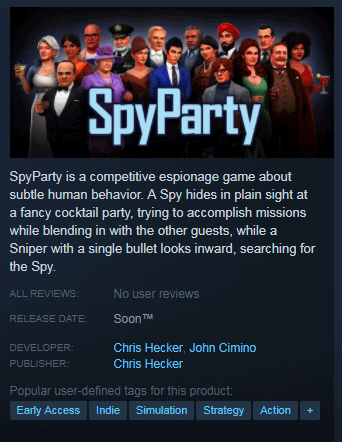 I put the SpyParty Steam page up last November, with the admittedly slightly trollish release date of Soon™, but now we have a real date, and that date is Thursday, April 12th, 2018, also known as next Thursday. I'm excited, but also terrified of what's going to happen!
I think the game is basically ready. I need to finish up matchmaking, which I'll write about more later, but early testing shows is going to be super cool and actually relieve a little bit of the stress of playing, at least the part that involves going to the lobby and inviting another human and chatting. Even though we have an incredible community, sometimes you just want to dip in and play a few quick games!
I did a bunch of press for the announcement that hit this week, and when doing the interviews, I had to think about the game with a fresh eye and explain it from scratch, and there is just an incredible amount of stuff in there, not only a deeply competitive multiplayer game that supports thousands of hours of gameplay, an incredible community, a completely interactive fully voiced tutorial, a fancy professional user interface, a replay and spectation system that's better than most AAA games, 20+ incredible bespoke animated characters, tons of different game modes, an active competitive scene with tournaments and leagues organized by the players and cast on the SpyParty twitch channel, and lots of plans to make it even better.
The press always came in with a "what's been taking so long?" type question and left completely blown away by how much stuff is in this game. I'm really proud of how it's coming out, and it's time to go on Steam and increase the accessibility. My biggest fear is the increased scale will harm the amazing community we've made, but I'm optimistic that it will be okay. The players are right now making a schedule for who is going to help answer questions and guide new players on launch day. They're simply the best community a game developer could ever want, it's incredibly humbling and I'm so grateful for them!
Six Beautiful New Party Venues, Bringing Us to Ten Total
As the announcement trailer at the top of the post shows, we've also dropped six new venues in the latest build, bringing the total number of new art maps to ten! In fact, this batch of maps completes the conversion of all the classic old art maps,1 so each one now has a new art counterpart, plus we've added a completely new gameplay area!
Each of the venues explores a different part of the game design space, so some have static occlusion and the Sniper has to move around to see the whole map, some have dynamic occlusion where guests are blocking certain views, etc.
These amazing environments were done by John Cimino, the long-time SpyParty artist, and Reika Yoshino, who you first heard about with the Veranda update. Reika was with us for a year and now works at Thatgamecompany.
Balcony
As is our tradition, here's an before/after slider widget you can drag around for the new Balcony: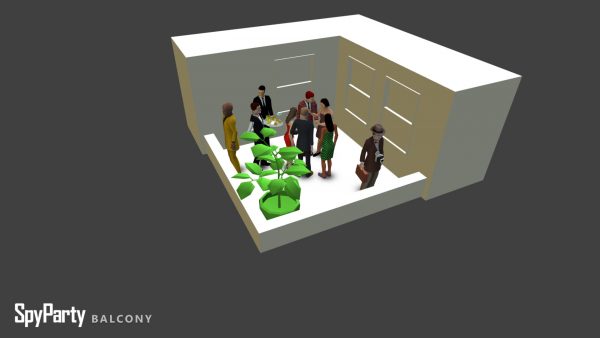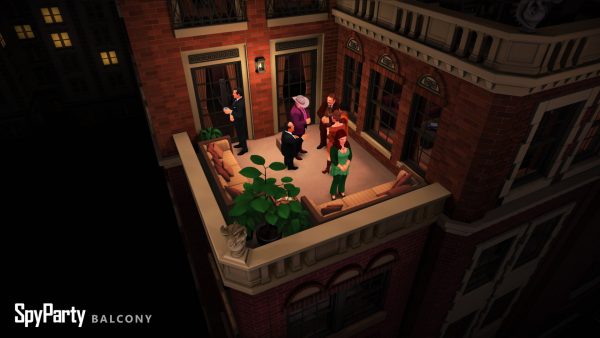 Balcony was my original attempt to make an "arcade mode SpyParty" by making a small map with few guests, but that backfired and it became one of the toughest, most subtle, and most competitive maps in the game because the Sniper could see the entire map at all times without moving.2 The architecture style is based on a "Pre-War" building in Chelsea in NYC.
Courtyard
Now an arty outdoor sculptural homage to Alan Turing, Courtyard explores what happens when you let the Sniper circle the entire map looking inward, but block their view by a giant statue of a famous computer scientist.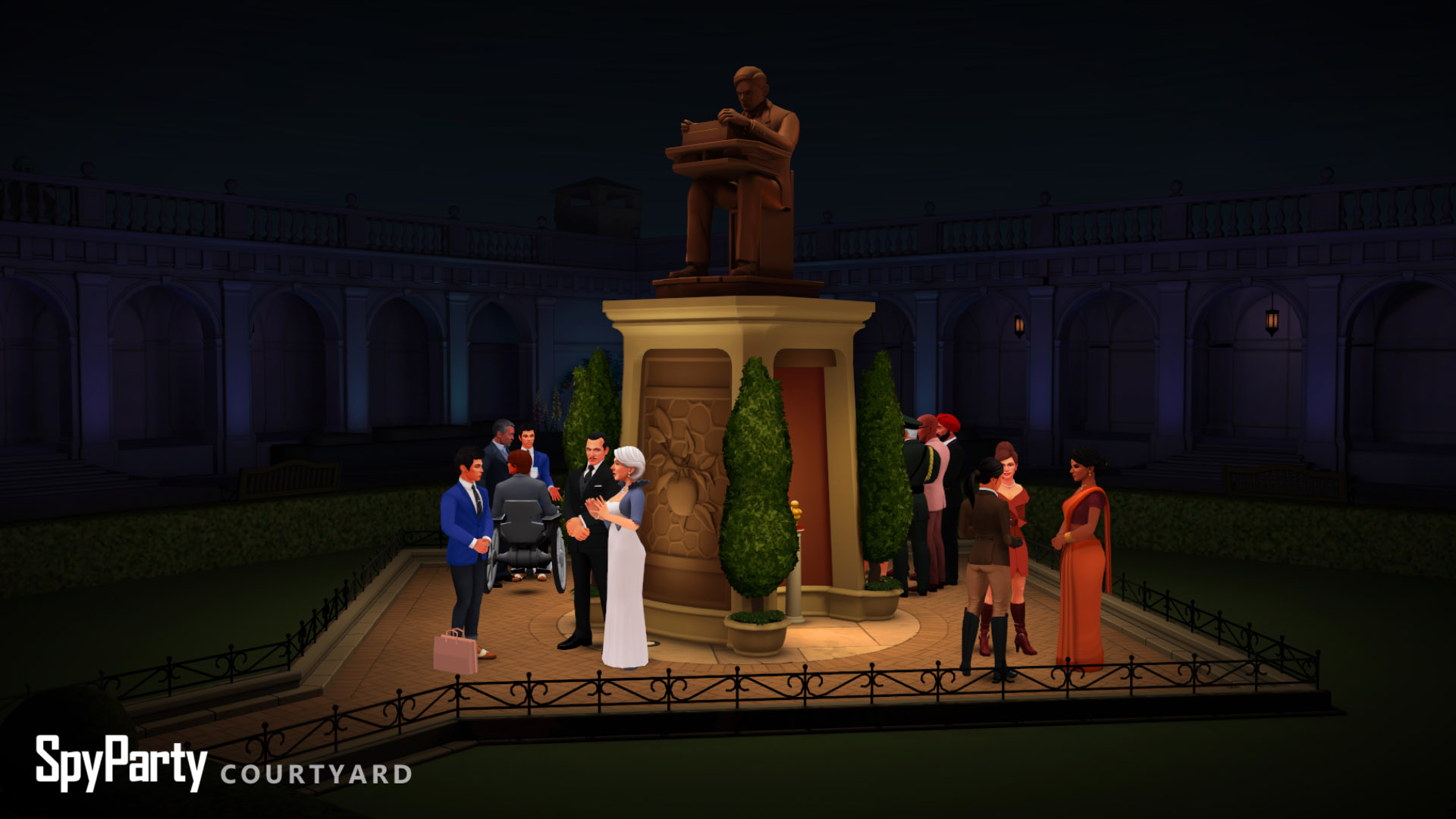 The Sniper has to keep moving, and the Spy has a pretty good idea what the Sniper can see at any given moment. Reika also pushed hard on the theatrical lighting in this map, like you would if you were having a cocktail party at your mansion on the outskirts of London.
Its come a long way since it was originally conceived and playtested.
Library
This map is the game design opposite of Courtyard.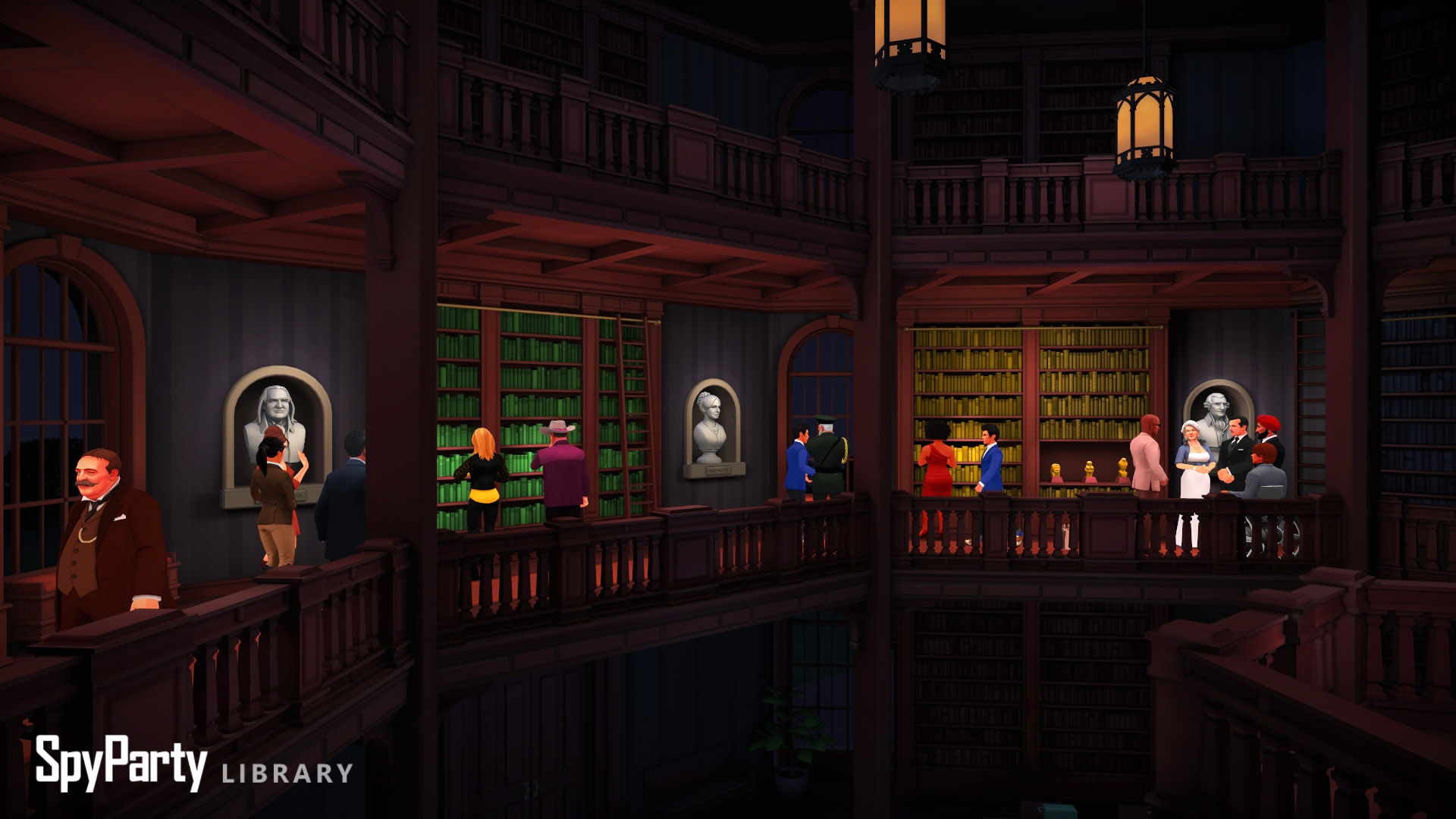 In Library the Sniper is in the center, and the party is around the outside. The Sniper can only see about 1/3 of the map at a time, but they can rotate their view a lot faster than the Spy can move, which makes for interesting "mission baiting" situations, like pretending you're looking at someone at statues on the left side of the map, and then swinging over to the right side to catch a bug attempt on the Ambassador. The original old art map was called Panopticon, and was actually a player-suggested idea, but since we only did 3/5ths of a panopticon, John made it into a library. However, it's a prison reform library, so Jeremy Bentham and other prison reform theorists get busts in the new version.
Gallery
This venue is a SOHO art gallery in NYC, narrow and deep, with everything visible to the Sniper if it wasn't for those pesky guests getting in the way.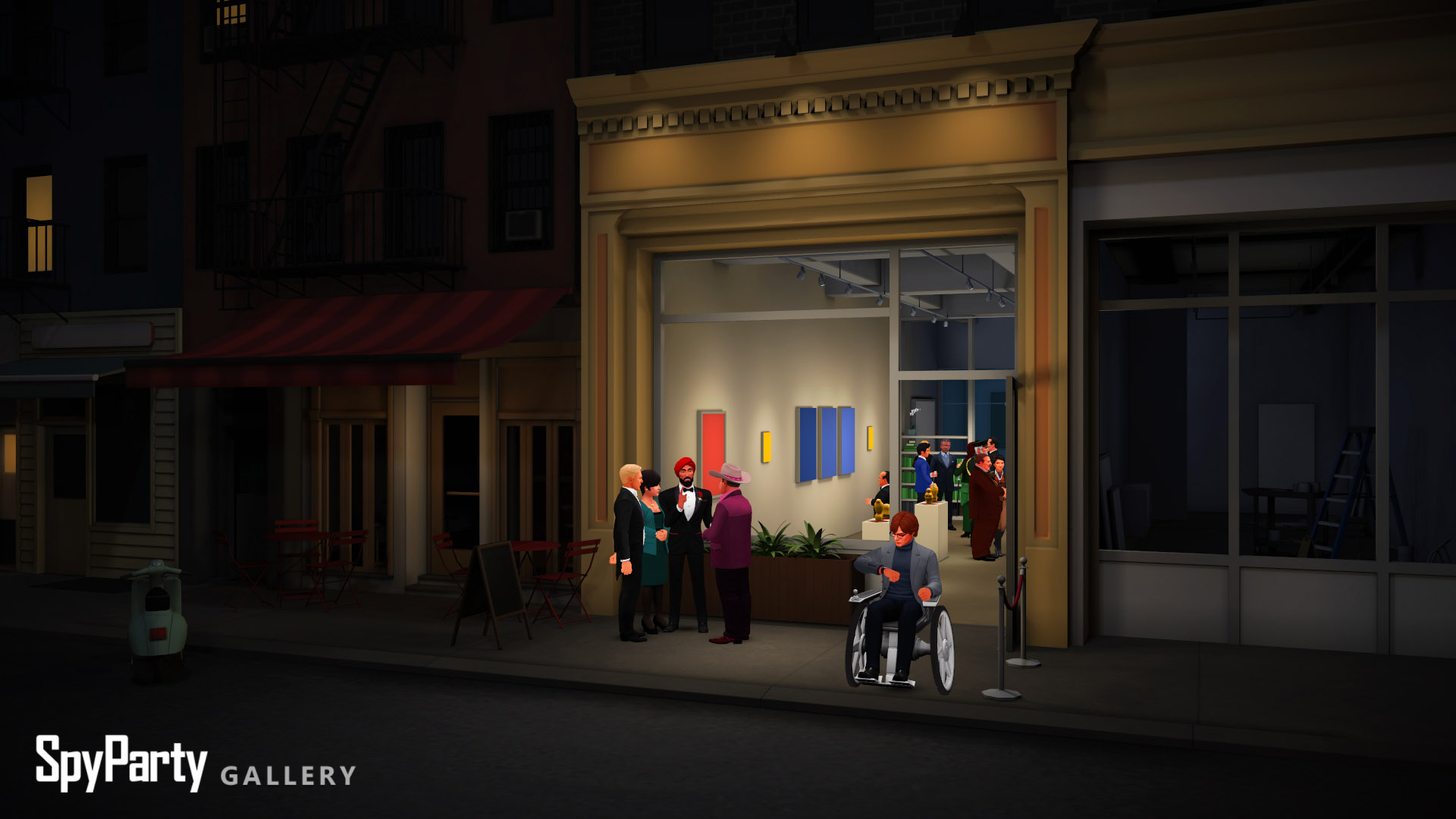 Gallery explores dynamic occlusion by the guests, where the guests in front can block multiple mission sites for the Sniper, to the Spy's advantage. There is currently a lively discussion in the private beta forums about whether Mr. S is unbalanced on this map because of his short stature. This map also is a good example of our timeless style…there's a Vespa, and an old cab, but also a minivan, and what year is this anyway?
Moderne
Modern, one of the original new environment art concepts we hastily turned into a playable map years ago so we could have somewhere for the new characters to stand,3 but it wasn't very playable. Now we've updated it to the latest iteration of the environment art style, and we also have enough characters so we opened the whole thing up!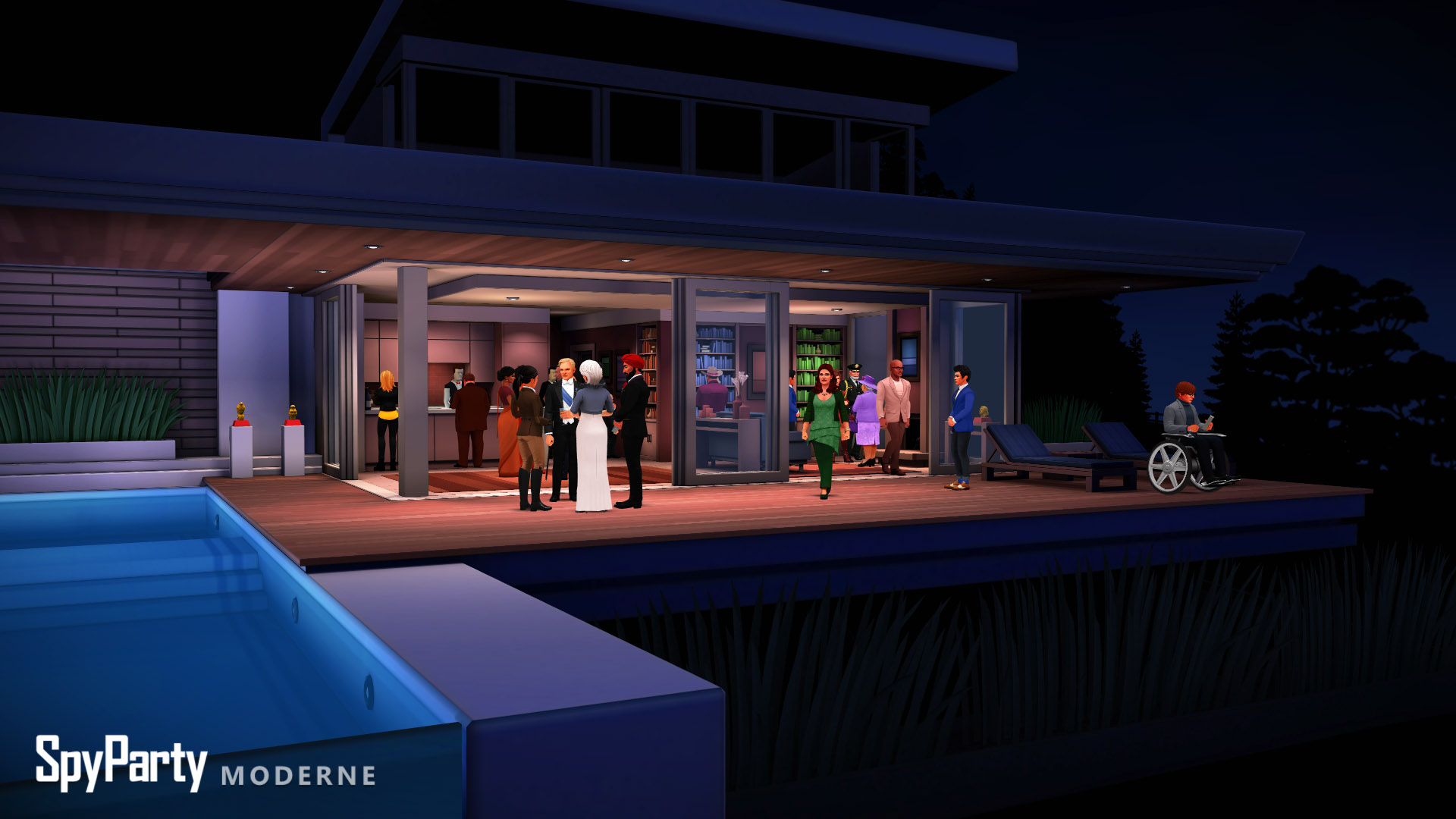 Because Moderne has never been playtested before, there is lots of discussion about its balance and strengths and weaknesses for the Sniper and the Spy in the private beta forums. It'll probably see a few quick iterations in the near future.
Terrace
John has outdone himself this time.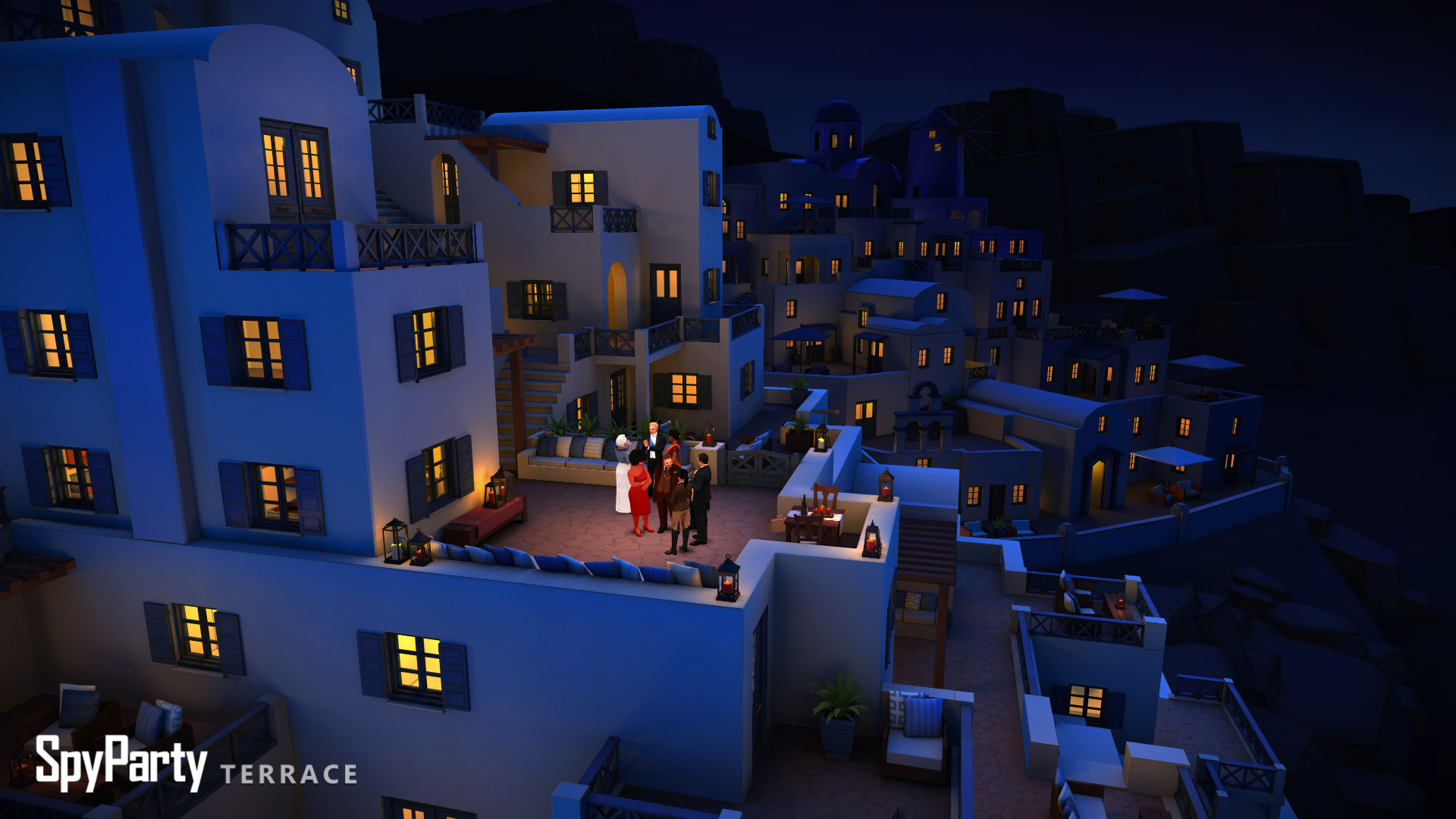 Terrace is a replacement for the Double Modern map, which was always kind of a hack to get more characters into Modern. I was just going to kill it, but then the players added it into the SpyParty Competitive League map selection pool, which kind of legitimized it, but I think we're going to make some changes and evolve it a bit. It's obviously based on the Greek Islands of Santorini and Mykonos with their hillside tumbles of houses and hotels.
Bonus Shots of the Other Four Venues
Ballroom
This is the original SpyParty map, prettied up with a Baroque architecture style, but keeping the competitive details, like plenty of dynamic occlusion from the guests blocking statues and bookshelves, and the slightly annoying camera angle to keep the Sniper sweating the guest list.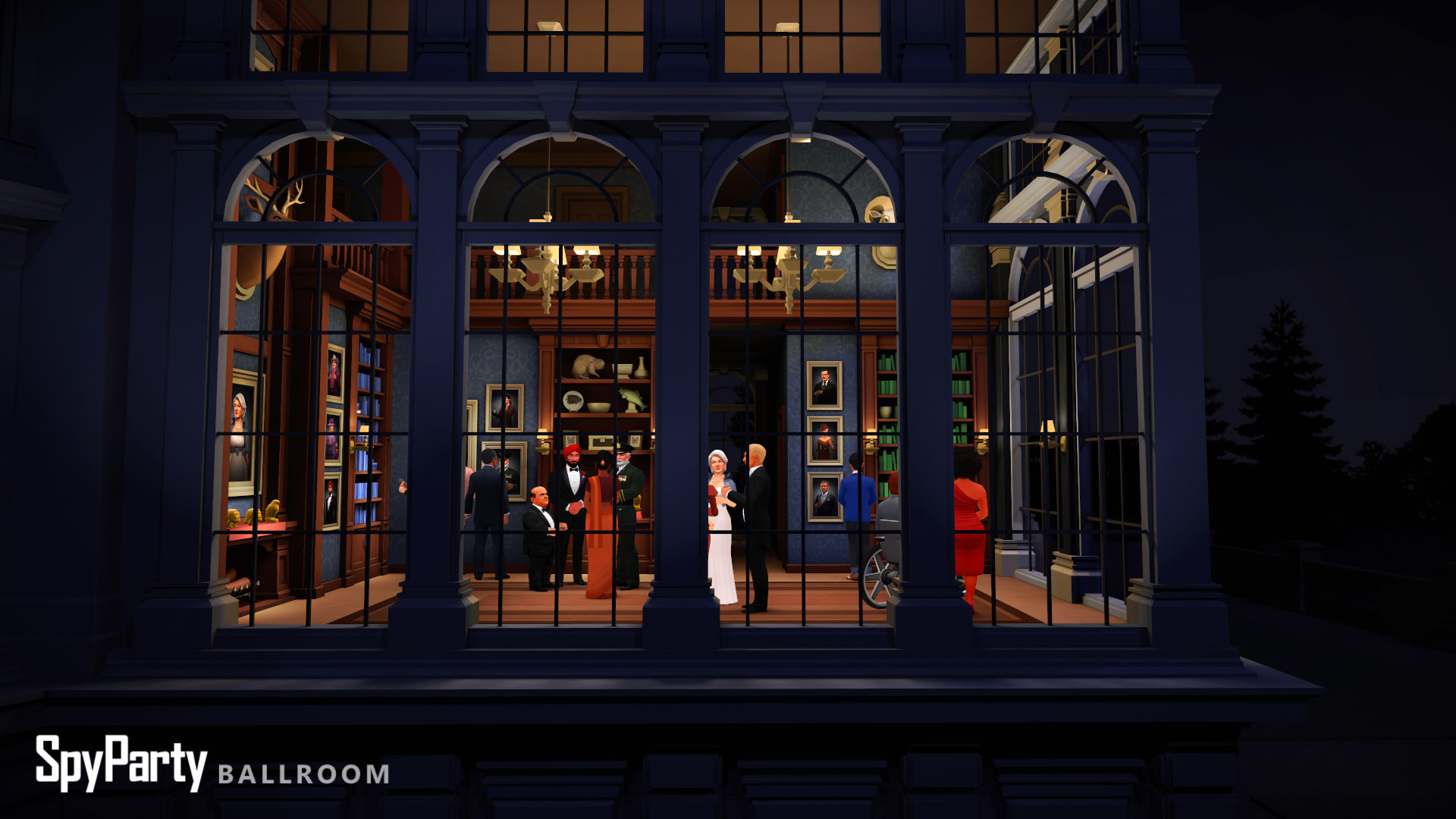 High-rise
One of the first new art maps, High-rise is a fancy condo based loosely on an overpriced one in San Francisco we found online. It has a lot of nooks and crannies and many more statues than it has any right to at its square footage.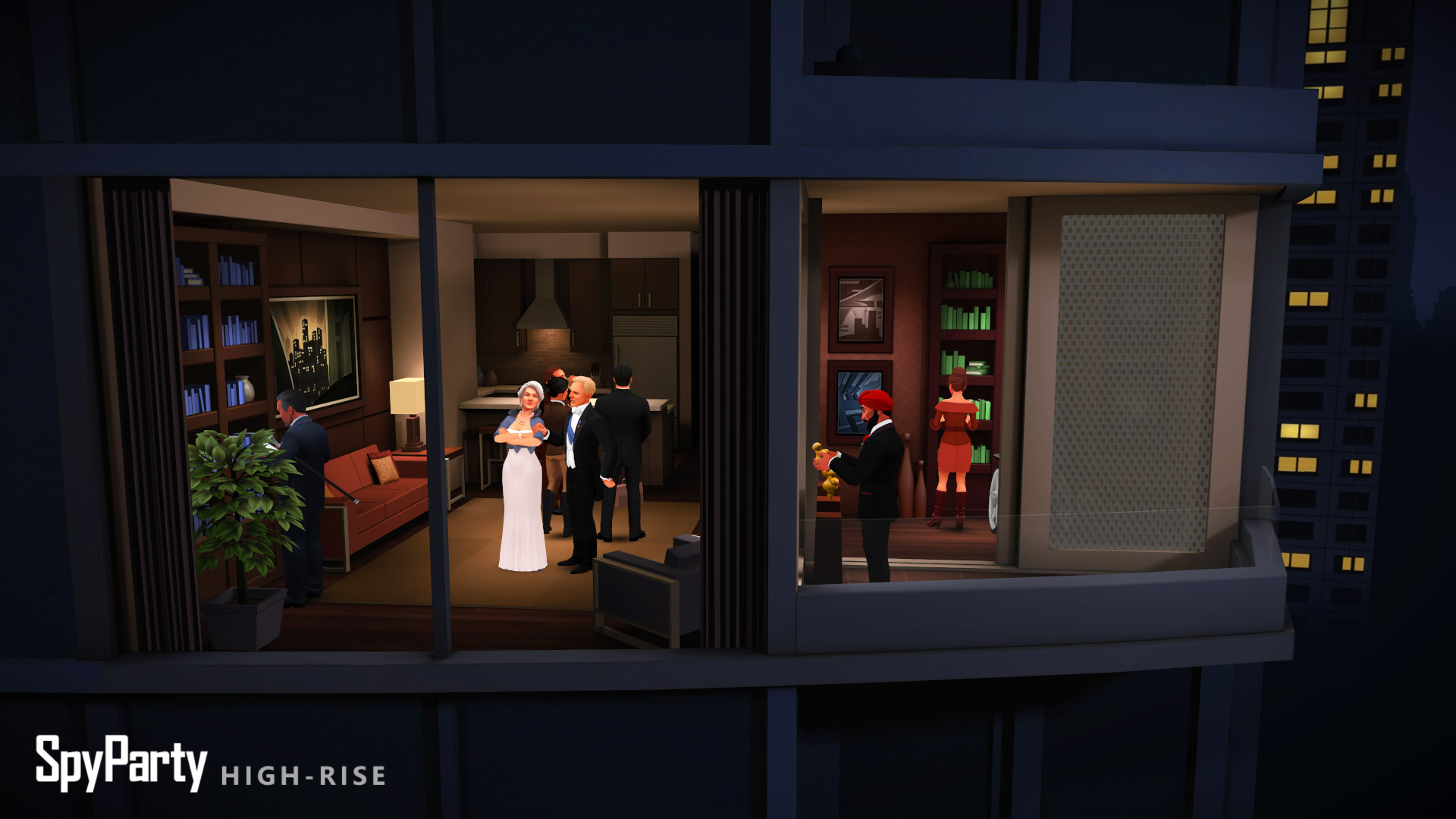 Pub
Sherlock Holmes got his own pub in London, so I decided Irene Adler deserved her own as well. Pub has a bartender instead of a waiter, which radically changes the Purloin the Guestlist mission, and it has an inside and outside, and a lot of places to bug relatively unseen if you can get the Ambassador to walk by.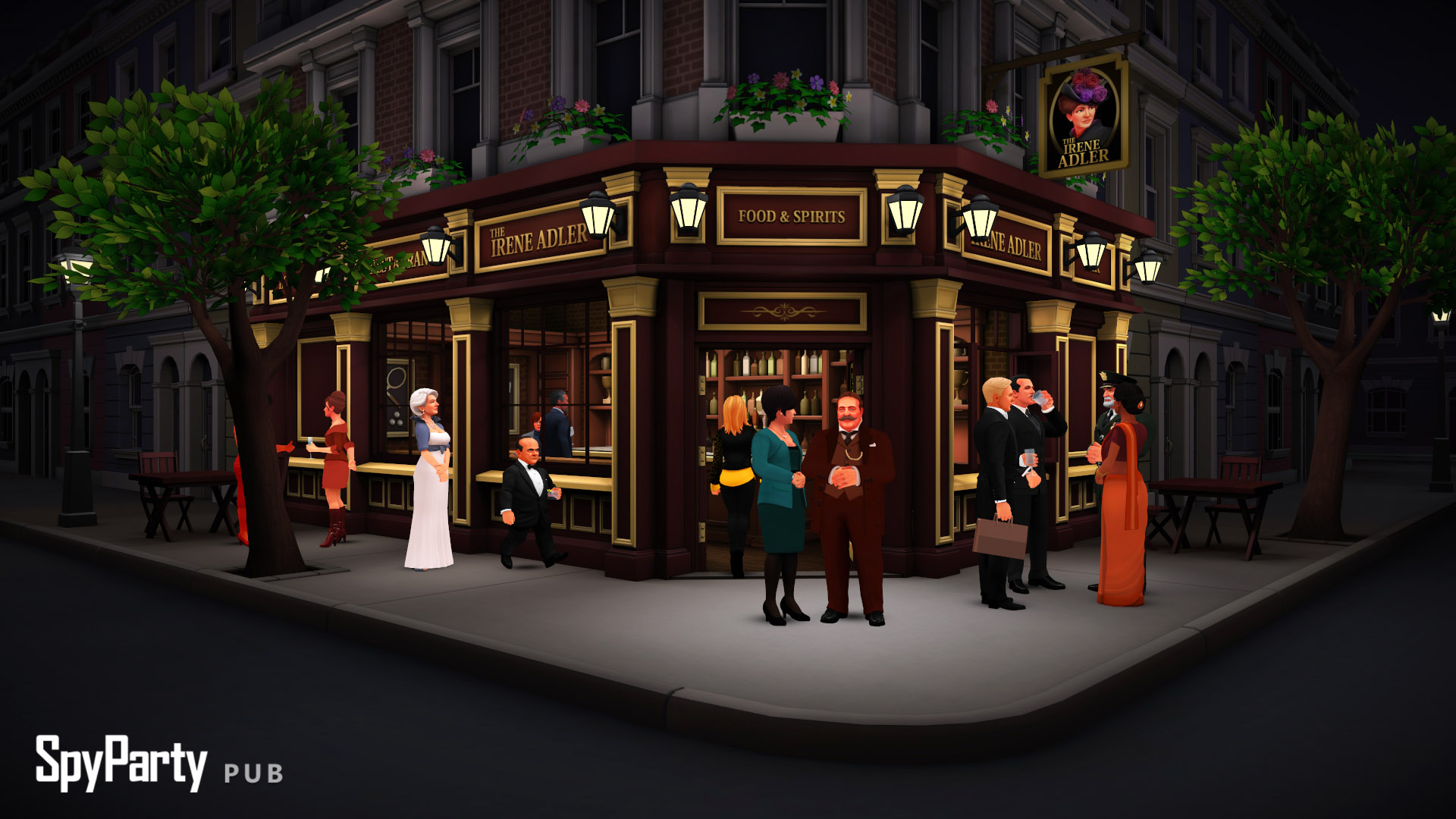 Veranda
Veranda was Reika's first map, and she got it ready for testing just in time for PAX!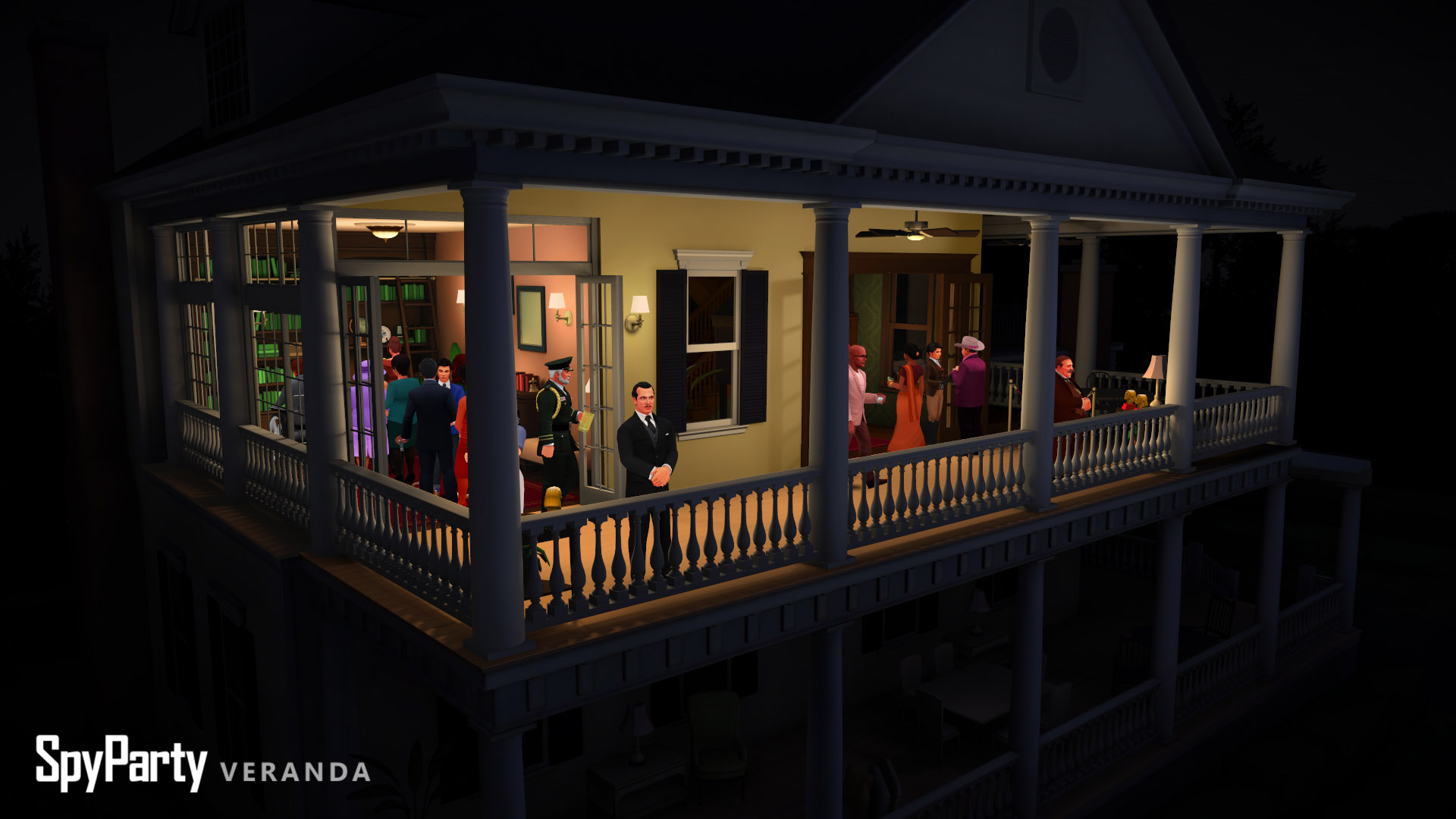 Veranda was our first map to explore the idea of the Sniper not being able to see the whole map at one time, since it's a horseshoe shape. Snipers settled on a local maxima location that requires only a little movement back and forth to see most of the map, and some rules of thumb about memorizing which guests go out of sight, but there's still a lot of occlusion and a lot of guests and it's a popular competitive map.
New Pricing on Steam Launch
SpyParty is currently USD$15 on the spyparty.com front page, and has been since the Early-Access Beta started 5 or 6 years ago. Saying the game has come a long way since then is a slight understatement, to the point where the beta players started a thread in the private beta forums saying the game was underpriced and that I should raise it. They play a lot of video games, so I listened to them. I wasn't using any kind of science when I set the price at $15 back then, I just thought Counter-Strike was awesome and it cost $15, and other big "triple-A indie" games were $15 too, so that's what I made it. Since then not only has the game evolved graphically an incredible amount as you see in those venues above, but also the design is way deeper than I even hoped it was going to be, with the top players now having around 20000 games played and 1000 hours of game time.4 The game has also taken a lot longer than I thought it would, and cost a lot more money too. So, those three things, the players telling me it is underpriced, the game providing way more depth and playtime than it did when I started, and the cost of the game being higher than I thought, and a few other considerations convinced me to raise the price to USD$24.99 when it does on Steam.
But, I want people who have followed the game for a long time but not bought it yet to have a chance to get it at the current $15 price, so instead of just raising it on the 12th, I'm announcing it now and giving fence-sitters a last chance. I know a lot of people don't like to buy games off Steam, and a lot of people are uncomfortable with PayPal or are simply unable to use it in their country, but for those of you who are just waiting to wait, the time to decide is now!
One complicating factor for people in other countries is Steam's regional pricing. I will support regional pricing on Steam, whereas the spyparty.com PayPal system doesn't support it, so it's possible $24.99 is actually cheaper in your local currency once regional pricing is in effect than the full $15 is right now. In other words, even though I'm raising the price, it might be cheaper for you to buy it on Steam for "$24.99" than it is to buy it on spyparty.com for $15. You'll have to figure that out, but to help here is a table with what the Steam backend tells me the regional prices will be for you, so refer to this and make your decision!
| | | | | | |
| --- | --- | --- | --- | --- | --- |
| USD | $24.99 | GB Pounds | £19.49 | Euros | €22.99 |
| Russian Rubles | pуб.465 | Brazilian Reals | R$47.49 | Japanese Yen | ¥2,570 |
| Indonesian Rupiah | Rp119,999 | Malaysian Ringgit | RM44.00 | Philippine Peso | P549.95 |
| Singapore Dollar | S$22.00 | Thai Baht | ฿319.00 | Vietnamese Dong | ₫219,998 |
| Korean Won | ₩26,000 | Turkish Lira | TL40.00 | Ukrainian Hryvnia | ₴329 |
| Mexican Peso | Mex$233.99 | Canadian Dollar | CDN$28.99 | Australian Dollar | A$29.95 |
| New Zealand Dollar | NZ$30.99 | Norwegian Krone | kr176.00 | Polish zloty | zł89.99 |
| Swiss Francs | CHF25.00 | Chinese Yuan | ¥80 | Indian Rupee | ₹569 |
| Chilean Peso | CLP$9,500 | Peruvian Sol | S/.45.00 | Colombian Peso | COL$33,500 |
| South African Rand | R150.00 | Hong Kong Dollar | HK$109.00 | Taiwanese Dollar | NT$378 |
| Saudi Arabian Riyal | SR39.95 | Emirati Dirham | AED66.00 | Argentine Peso | ARS$279.99 |
| Israeli New Shekel | ₪92.95 | Kazakhstani Tenge | ₸3,300 | Kuwaiti Dinar | KD4.25 |
| Qatari Rial | QR49.99 | Costa Rican Colon | ₡10,500 | Uruguayan Peso | $U529 |
It looks like there are a few multi-country regions that get additional discounts too, but it wasn't clear to me how to display them or what they'd be, but if you live in one of these countries, maybe look at other games that are USD$24.99 on Steam and that have regional pricing enabled and see what they are locally: Bangladesh, Bhutan, Nepal, Pakistan, Sri Lanka, Armenia, Azerbaijan, Belarus, Georgia, Kazakhstan, Kyrgyzstan, Moldova, Tajikistan, Turkmenistan, Uzbekistan, & Ukraine. Please don't hold me to this list, since I don't know if Steam changes this dynamically or what, but it should give you a ballpark and help you make your decision.
If you have any questions, ask below!